When you shop through retailer links on our site, we may earn affiliate commissions. 100% of the fees we collect are used to support our nonprofit mission.
Learn more.
When you shop through retailer links on our site, we may earn affiliate commissions. 100% of the fees we collect are used to support our nonprofit mission. Learn more.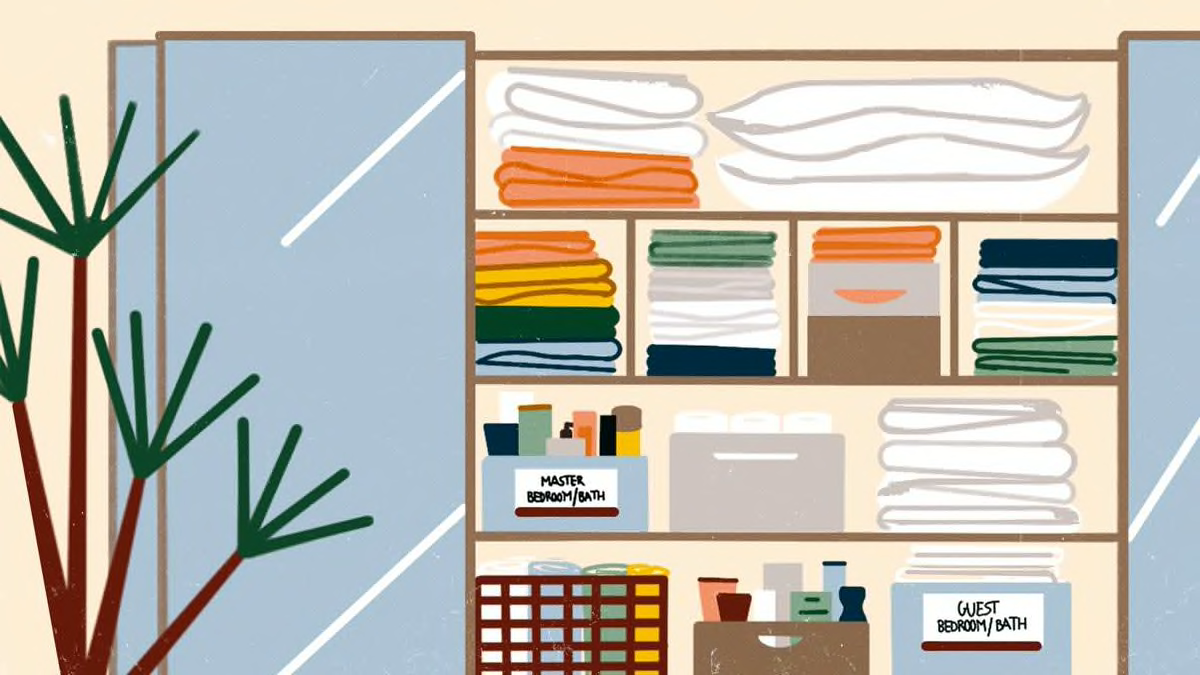 Illustration: Andrea Mongia
Linen closets have a dirty little secret: They can hide a lot of disorganization behind closed doors. So when all the washcloths in the house seem to have disappeared, or if all you can find are single size sheets when you're searching for queen size, these tidying tips should help you clear out what you don't need, create order, and make items easier to find—not just for a day or a week, but into the future.
Top organizing experts contributed their best strategies for this project, their estimate of the time required to sort and reshelve items, and their recommendations for products that can help improve your results.
As you work, keep in mind the words of Sharon Lowenheim, certified professional organizer and founder of Organizing Goddess: "Organizing isn't about keeping everything neat; it's about knowing what you own and how to find it when you need it. Deciding where everything goes—and putting it back there consistently—is the key to getting and staying organized."
Tame Linen Closet Chaos
• Time required: 3 hours
• Helpful supplies: Shelf dividers, bins and baskets, labels, vacuum bags
Stock Shelves by Frequency of Use
Use shelves at eye level and just below for things you use regularly. Bulkier, less frequently used items like extra blankets and pillows can go in soft-sided bins on an upper shelf or on the floor, says Jeffrey Phillip of Jeffrey Phillip Organization and Design. Consider storing super low-use bedding in stackable cube vacuum storage bags or vacuum bags hidden in boxes, such as Oxford Grey Storage Boxes with Vacuum Bag ($30 to $40 at the Container Store)—the latter are both attractive and stackable, says Amy Tokos, certified professional organizer and founder of Freshly Organized.
Order Shelves by Room
Use shelf dividers, such as Jucoan Shelf Dividers ($22 at Amazon), to keep each room's stacks together and upright, and label the shelf by room or user. Fold washcloths and store them in a rectangular basket. Give away linens that aren't part of a matching set. (Animal shelters, for example, often appreciate bedding donations.)
Keep Just Enough
No one needs 30 towels; a bed should have two sheet sets—the one on it and a backup. An easy way to keep sheet sets from getting broken up: Store them inside one of the matching pillowcases, says Tokos, who is also president of the National Association of Productivity and Organizing Professionals (NAPO).
Contain & Conceal
Opt for opaque small bins that hide the jumble inside (over-the-counter medicines, cosmetics, and more); label each bin externally so that you know what it holds. Discard anything expired or no longer used; pharmacies will typically take back medicines. Store medicines out of reach of children.
Store Bulk Buys Elsewhere
Figure out how many rolls of toilet paper, paper towels, and soap multipacks you need in a month, then let your stock dwindle so that your closet isn't crammed. Store warehouse club products in the basement or garage and stash smaller quantities under bathroom sinks, replenishing as needed, says Tokos, who keeps a magnetic grocery list stuck to her fridge for family members to add to.
Editor's Note: This article also appeared in the May 2022 issue of Consumer Reports magazine.