When you shop through retailer links on our site, we may earn affiliate commissions. 100% of the fees we collect are used to support our nonprofit mission.
Learn more.
When you shop through retailer links on our site, we may earn affiliate commissions. 100% of the fees we collect are used to support our nonprofit mission. Learn more.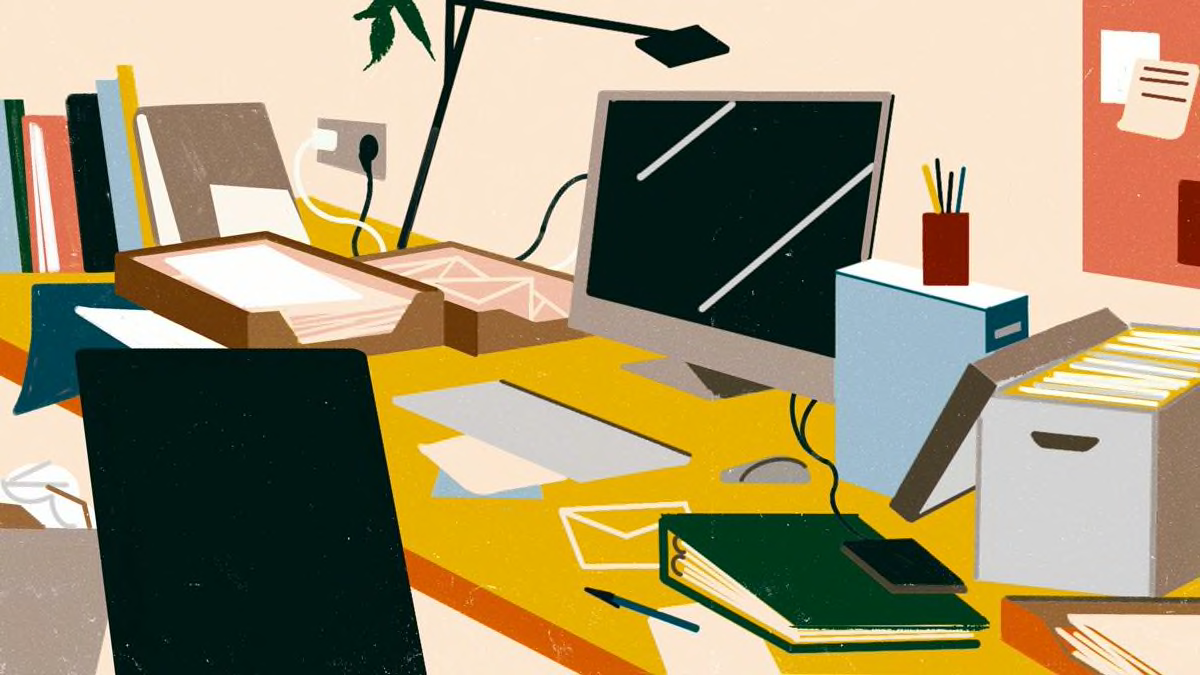 Illustration: Andrea Mongia
Clutter can accumulate with surprising speed in a home office. But you can conquer the chaos if you have a plan, a few hours, and some helpful items to corral your stuff.
Below are two types of office disorder that can slow your efficiency and trip you up—literally. We consulted with some of the country's top organizing experts, who estimated the amount of time each task will take, provided useful tips, and suggested products that will help you easily reach your goal: a clutter-free work space.
Use any bins, baskets, and dividers you already have before spending on new ones. But if you do need to buy something, be sure to measure it, the things you plan to stow inside it, and the area you're organizing, to make sure everything will fit.
Paperwork Piles
• Time required: 1 hour per file drawer's worth of material
• Helpful supplies: Filing cabinet (or boxes), fire-safe folder
Simplify 'Keep' or 'Toss'
Set firm rules. "Be very clear on what you need to save and why. If you aren't sure, consult a professional, like your CPA or banker," says Lucy Milligan Wahl, founder of LMW Edits. Anything from before a certain year or pertaining to accounts you no longer hold should automatically be shredded.
Divide to Conquer
For documents you plan to keep, the fastest way to organize them is to make three categories, says Caitlin Roberts of Minimize With Purpose. Place pending items (invitations, bills to pay) in a folder on your desk. Divide temporary storage into two folders: one with current paperwork you need to hang on to for a year or less (warranties, outstanding refunds or claims, this year's tax documents) and another containing seven years' worth of tax returns. Keep permanent storage—identification documents, home purchase records, titles, and deeds—in a file drawer or fire-safe folder such as the DocFortress Fireproof & Water Resistant Storage Bag ($30 at Stealth Angel Survival). Consider neatly labeling files with a label maker, such as the Brother P-Touch Pro Label Maker (from $57 at Amazon and Walmart).
Find a System You'll Actually Use
"A good, old-fashioned filing system works really well," Wahl says. "When labeling folders, think about how you would personally search for the contents when you need them. This is why a folder labeled 'Miscellaneous' is a terrible idea—you're never going to look for a home inspection report from five years ago in there."
Tangled Cables & Cords
• Time required: 20 minutes
• Helpful supplies: Rubber bands, Velcro strips, cable sleeves, cord labels, cable box, cord covers
Corral Cables
To neaten up cables currently in use, wrap the excess and hide it behind furniture, says Sharon Lowenheim, certified professional organizer and founder of Organizing Goddess. Bundle up extra-long, thin cables with rubber bands, hair ties, or Velcro ties. Slide thicker groups of wires into a flexible cable sleeve like the Alex Tech 10-foot, 1⁄2-inch Cable Sleeve ($10 at Amazon).
Hide Ugly Plugs
Reroute unsightly wall plugs into a surge protector behind a large piece of furniture. Lowenheim likes the Belkin Surge Protector with Flat Rotating Plug (from $14 at Amazon and Belkin) because the plug fits into any outlet. You can then hide the surge protector inside a cable box like D-Line's Cable Management Box (from $15 at Ace Hardware, Amazon, and Lowe's). Or use a decorative cord cover such as D-Line Cable Raceway Cord Cover ($16 and up at Amazon, Lowe's, and Walmart) that adheres to a baseboard to hide cables in busy zones.
Get Cords off the Floor
Secure chargers on the surface where you juice up your smartphone or tablet with a weighted cord holder like the Cord Buddy Charger Cord Holder ($10 at Cord Buddy), or just direct wires where you want them with a small, adhesive cable holder such as the Bluelounge CableDrop (from $10 at Amazon, Bluelounge, and Home Depot).
Label Everything
Designate a spot to keep cords not currently in use and make sure everyone in the household knows where to find them. Label each cord with the device it's for and store it inside a plastic bag with other similar cord types (power, audio, etc.). Lowenheim suggests putting any unmatched cables in a box labeled "Mystery Cables" along with the date you stored them there. After a year, drop off any unneeded ones at an electronics recycling facility (or see whether Best Buy will accept them).
Editor's Note: This article also appeared in the May 2022 issue of Consumer Reports magazine.